A New Jersey father who wore an "In Need of Kidney" T-shirt at Disney World last summer underwent a kidney transplant this week in New York.
Robert Leibowitz, 60, who has been in need of a new kidney for three years after suffering from chronic kidney disease, never imagined how magical his family's vacation to the Magic Kingdom would be after securing a kidney from a stranger — thanks to another stranger's Facebook post about his handmade T-shirt.
"I thought, 'You know, if I can get one person who's my blood type to just respond and maybe that's my match…You know it's worth the $35 investment for the shirt,'" Leibowitz said.
"This amazing couple, Rocio and Juan Sandoval, took a picture of it and said do you mind if I post it? Within the first week 90,000 Facebook shares. Three days walking around the park… my phone wouldn't stop ringing."
Richie Sully, a father of two from Fort Wayne, Ind., saw Sandoval's post and knew that he wanted to help Leibowitz.
He reached out to Leibowitz, saying, "My name is Richie. I am O positive. I have an extra kidney [and] you are welcome to it."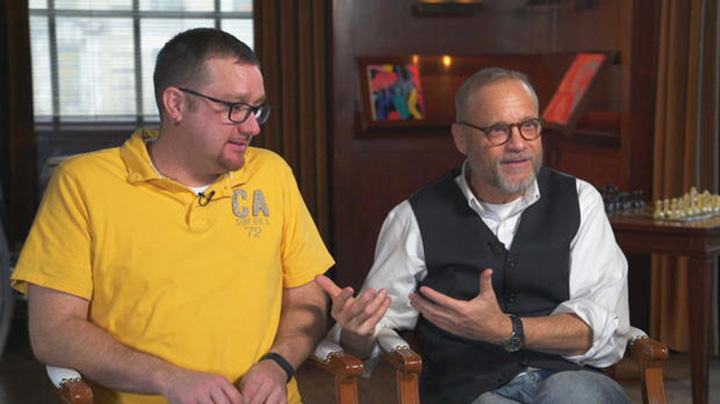 After a mountain of tests, and months filled with anxiety, Leibowitz received confirmation that Richie's kidney was a match.
"I broke down and I screamed but of course screaming in New York, nobody – everybody ignores you anyway," Leibowitz said of getting that phone call. "Words cannot explain. This guy's saving my life. He's saving my life. He's giving me more time with my kids."
Sully and Leibowitz were reported "doing well" after the surgery Thursday at New York-Presbyterian Cornell Medical Center.
NBC4 News reported that Leibowitz plans to take his Sully and Sandoval to Disney World to celebrate his fairy-tale ending.